2017 FFXIV Little Ladies Day from march 1 to 14
As the streets are painted in the sweet pink of spring and the fragrant scent of cherry blossoms lure men, women, and children from their homes, it is clear Little Ladies' Day is upon Eorzea, once more. This year's celebration promises to be one of the best yet, for three special girls are set to return to Ul'dah. As the Songbirds prepare to take to the stage and ardent fans flood the streets, however, things go terribly awry. With nowhere else to turn, the royal seneschal must once again call upon adventurers all across the realm for help to prevent Little Ladies' Day from ending in disaster.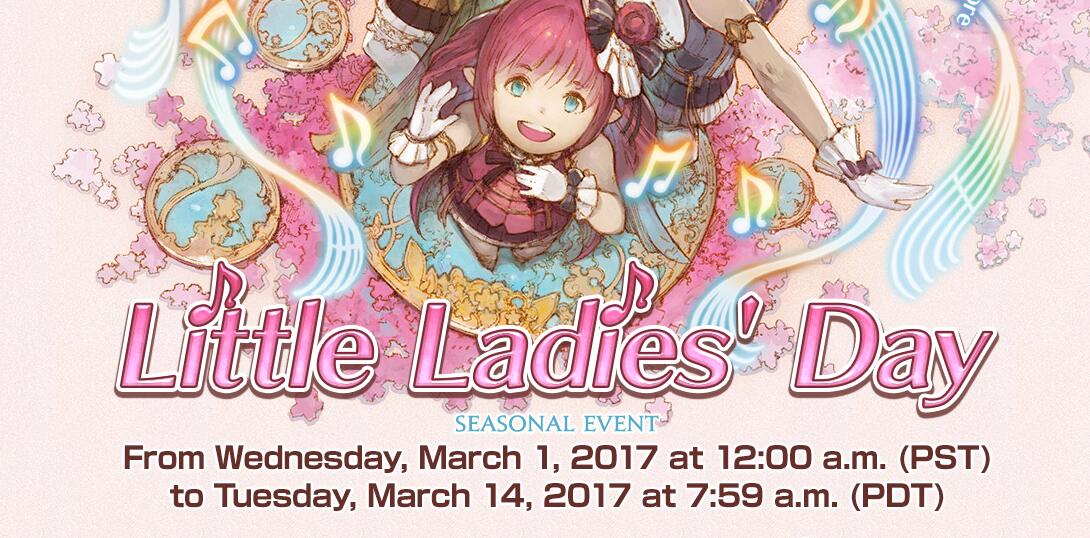 Birdwatching Gone Wrong
A reporter from the Mythril Eye has been approaching adventurers left and right under the guise of wanting to collect opinions for an article he will be running in the paper. It quickly becomes evident, however, that he is simply looking to recruit able-bodied men and women on behalf of the royal seneschal, who has run headfirst into some trouble with rioting crowds. Those willing to step forward and ensure that this Little Ladies' Day will not end in disaster are encouraged to stick around and listen to what the columnist has to say.
Event Items
1) Songbird Hat
Repair Level:Weaver Lv. 1
Materials:Grade 1 Dark Matter
Convertible: No
Projectable: Yes
Desynthesizable: No
Crest-Worthy: Yes
Dyeable: Yes
2) Songbird Jacket
Repair Level:Weaver Lv. 1
Materials:Grade 1 Dark Matter
Convertible: No
Projectable: Yes
Desynthesizable: No
Crest-Worthy: Yes
Dyeable: Yes
3) Songbird Gloves
Repair Level:Weaver Lv. 1
Materials:Grade 1 Dark Matter
Convertible: No
Projectable: Yes
Desynthesizable: No
Crest-Worthy: Yes
Dyeable: Yes
4) Songbird Skirt
Repair Level:Weaver Lv. 1
Materials:Grade 1 Dark Matter
Convertible: No
Projectable: Yes
Desynthesizable: No
Crest-Worthy: Yes
Dyeable: Yes
5) Songbird Boots
Repair Level:Weaver Lv. 1
Materials:Grade 1 Dark Matter
Convertible: No
Projectable: Yes
Desynthesizable: No
Crest-Worthy: Yes
Dyeable: Yes