Buy FINAL FANTASY XIV From STEAM Only $9.9 until February 21th
In celebration of the 30th anniversary of Final Fantasy FFXIV, Steam and Valve are having a huge 50% off sale for plenty of beloved games in the franchise.



Now would be the time to try out a Final Fantasy game you haven't has the chance to buy, with some games being as low as $5.99, like the well-loved Final Fantasy VII and VIII. The entirety of the XIII trilogy is on sale too, including XIII-2 and Lightning Returns, for those who haven't wrapped up that storyline.

For anyone that hasn't tried out the Final Fantasy MMOs, both FFXIV and its expansion, Heavensward, are on sale for $9.99 each. Final Fantasy XI, which is still running proper servers, is also offering its Ultimate Collection Seekers Edition for $19.99, which includes all expansions and DLC, along with special in-game items, but still requires a subscription fee.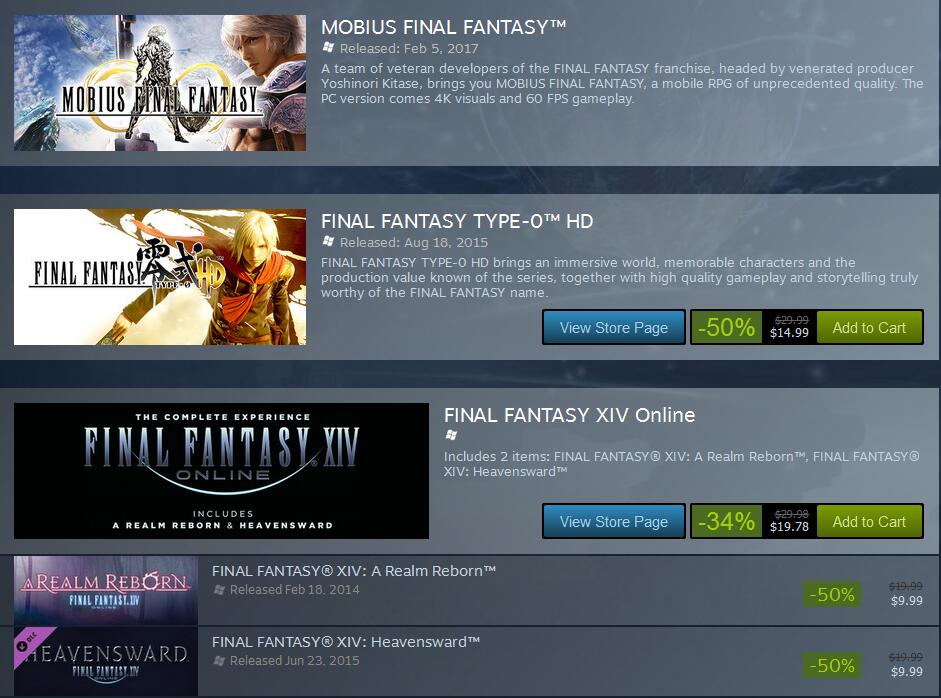 Older classics like III are back with new visual designs for the Job Mastery Cards. V and VI return to the gaming world, ready for PC play, with all of them having new achievements for Steam.

These particular offers are available until February 20th, so now's the time to pounce on these deals and pick up the games you've been putting off playing for so long.
And Now you buy ffxiv gil at ff14gilhub.com will also enjoy a 10% discount(coupon ff14gilhub10) Until 30/2/2017