Final Fantasy XIV - Waste your time farming Poetics with your bard BUT there are other ways
1) go to the foundation and pick up NQ gear at the NPC. Or check the market board some of the HQ items you get from the quests anyway people sell at 1-5k (on my server) and are good enough for this method. Or check the pvp vendor if you pvp'd before and have some marks/seals left.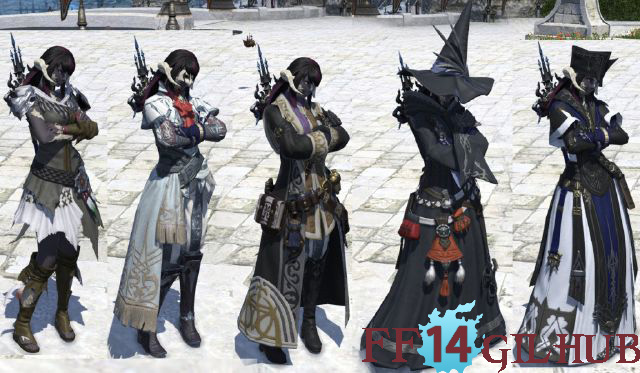 2) Since you're already there, go to the INN and pick up all 3 hunting log (daily) you can ignore the weekly one since it gives no exp unless they changed it by now.
3) Open your duty roulette and que for level 50 roulette.
4) Main scenario Roulette (yes I am aware is horrible place to go but once a day isn't bad)
5) Daily Beast tribes. Make sure you are picking up the quest with your drg (50) and not with your brd. (60) Ignore the old beast tribes since the exp ain't worth it.
6) After you're done, summon your chocobo and start your first hunt log. Go through all 3 of them.
7) check for challenges since it's weekly reset, some of the challenges give great exp for running lets say 3 dungeons. (little tip here, you could unsync satasha if you wanted 3/5 times and get the bonus, if you do not want to bother with higher level dungeons just yet or save it)
By now you're easily level 52/55, depending how many times you ran the regular 50 dungeons and how much rested exp you started with etc. Now same thing, go check the market board first if you do not have crafting professions, if not than check the vendor. Start with the HW dungeons. Normally you start with the aery (lvl 55 dungeon), but even the prior dungeons are great now that they buffed the exp. It's even faster if you have FC exp buff, food buff (any cheap 3% bonus food will do), rested exp and if you're super lucky a NEW person in your group since it gives bonus exp/FFXIV Gil at the end.
There is a couple other tricks, you could for example pick up the 3 hunting logs right now on your level 60 and then ignore them till tomorrow, after the daily reset.
Now after the reset you start doing those logs you picked up prior. After you're done go and pick up 3 more (this are the today's logs). Anyways, if you then have the patience for example to do it even at lets say 6 am since the server don't reset till 8 am, you could then pick up another 3 logs at 8. So means you are doing basically a total of 9 logs during one play session/at once if that makes sense.
Note: At the end of the day I am not saying my method is the best, however it gets you to level 54+ quick and from there on it's just a couple of hrs to 60 without fates or CT/ST/WoD spam. This method is faster than having to farm poetics first or again the towers for gear that's not even worth it. When you reach the aery you can start picking up gear from there, everything prior is fine with just the NPC gear. Also if you que multiple times for the level 50 roulette you are getting faster in the dungeons. Yes you do get bonus only once a day via roulette, however you are getting the full exp in the dungeon itself. And at level 50 - 52 its a lot of exp and takes barely any time since people speed running them.