Final Fantasy XIV: fang & claw and wheeling thrusts are random procs?
Yes, 50/50 split. In the end, it's honestly not that difficult to get used to. Here's a couple of tips to help:
1) From the Dragoon DPS Paradigm thread (Thanks, Dervy!), something like this will help you tell which one has procced: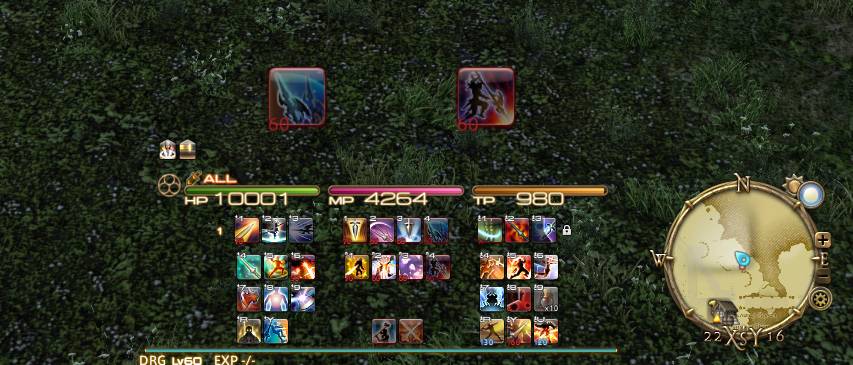 It will highlight which one has procced so as long as you remember what hotkeys match to what, you should be good...which leads me to....
2) Put the buttons next to each other. For me, I put them on F & G. When it procs, I move into position and slam both if I am feeling overwhelmed because it won't execute the "wrong" attack regardless.
3) Practice! Practice even while soloing. Leave Leg Sweep/Spineshatter Dive so you have a chance to move into position. Use all your cooldowns on regular mobs to get used to rotations. Doing that will help build your muscle memory. Try and keep Blood of the Dragon going even while jumping between mobs during a "Kill X enemies" quest. You can even try and move "through" mobs and use the positional to see if you get it (and it keeps Blood of the Dragon alive regardless of whether you hit positionals or not).
While PC players have no excuse to practice and get better with these random procs, I think drg rotation is already quite bloated, and adding in 2 random procs makes life hard for console players, players who use controllers, or players without an excellent connection. There can be a slight learning curve, but really, most of us want to play FFXIV, an online RPG, but the way rotations work for DRG now it feels more like I'm doing inputs for Virtual Fighter or Tekken. Would it be too much to just remove the randomness and let chaos thrust and full thrust always proc their respective followup finishers? Blood of the Dragon already has a number of restrictions and a limited duration which can be challenging to keep up when performing mechanics, the random factor is difficult to account for especially when bosses turn, which is quite often.