The Most Profitable Profession in Final Fantasy XIV
It goes without saying which game you are addicted to, the issue of money will always rear its ugly head in Final Fantasy XIV. Whether because you are flat broke and it is causing problems, or you have got your eye on an expensive item. Everyone needs a way to make money and buy Final Fantasy XIV Gil.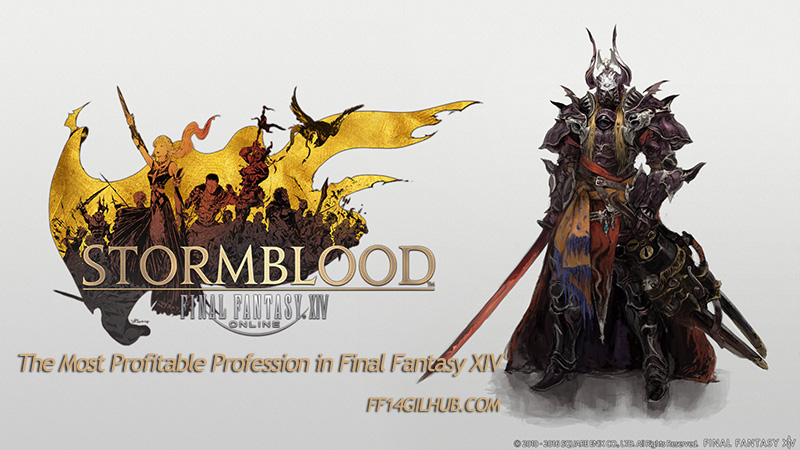 Frist Introduction Crafting classes, also known as Disciples of the Hand, synthesize new and useful items such as armor, weapons, food and potions from basic materials. The 8 Disciples of the Hand classes in A Realm Reborn are Carpenter, Blacksmith, Armorer, Goldsmith, Leatherworker, Weaver, Alchemist and Culinarian. Some of the basic materials are collected by gathering by disciples of land classes or killing certain types of enemies. Players can unlock these crafting classes by talking to the Guild Receptionist in the Respective Guilds. Players are required to have a lvl 10 or higher Disciple of War or Disciple of Magic class to do this.
They only have access to the cross-class abilities from the gathering discipline in addition to their own, whose cross-class abilities are entirely exclusive to them. They gain one cross-class slot every five levels up to level 50.
Crafting classes are ill-suited for combat and cannot participate in Duties. They also have their own selection of levequests focused entirely on providing specific items. Its advisable to enter a safe zone (especially the capital cities) to perform crafting without any danger of interruption and to benefit from bonus experience from resting.
In addition to crafting, these classes (except for culinarians) provide additional functions:
Repair: To repair any item yourself, you'll require a certain level in a corresponding crafting class. This applies to every piece of equipment, craftable or not. You don't have to switch to the class in order to repair the item. Unlike NPC repairs, this can restore condition to far above 100%. The higher the level of the equipment, the higher grade Dark Matter is required to do this.
Materia Melding: This likewise requires a certain level in the corresponding crafting class. Players can "Request Meld" from other players with a sufficient crafting level, but may also be charged for the service. This can only be performed while the class is active. This feature is unlocked through the quest Waking the Spirit with a crafting class at level 19.
Desynthesis: Taking unneeded equipment, furnishing and fish apart to potentially salvage some of the materials and even find unusual materials. This has its own skill level system, but the maximum skill in any class is dependent on the crafting class level itself. Culinarians can desynthesize most fish instead of equipment. You don't have to switch to the class to do this. If the Desynthesis skill is too low compared to the level of the item, its not possible to perform this action, and some equipment can't be desynthesized at all. This feature is unlocked through the quest Gone to Pieces with a crafting class at level 30.

So Most Profitable Profession in Final Fantasy XIV with Carpenter
I would recommend dailies and farming ffxuv gil, if you just want to make quick cash and be on your way. However, if you want good, sustainable income, then pottery is undoubtedly the simple and convenient way to go. As you know most of the professions have their niche and are capable of generating money in the game. However, Carpenter supplies many ingredients required for the other crafting professions. This makes it a veritable cornerstone of the crafting market.
Most Profitable Profession in ffxiv All in all, how much money you can pull in will depend on the effort expended, but even the casual gamer can make a decent amount with pottery. Remember to keep your options open and do not just farm for what's selling well. The markets are always in flux and you need to prepare for this sort of thing. Always have something to fall back on for those times your 'best seller' isn't doing so hot and happy farming!